We recently went and spent one night in Asheville, NC. It's one of our favorite places to travel to because it's only about an hour away from where we live, plus we enjoy the atmosphere and the beautiful setting there. The mountains are gorgeous and downtown Asheville has so much for you to explore! We have been many many times and we are still finding new places to try every time we go back! 
One Night in Asheville, NC
Where We Stayed In Asheville, NC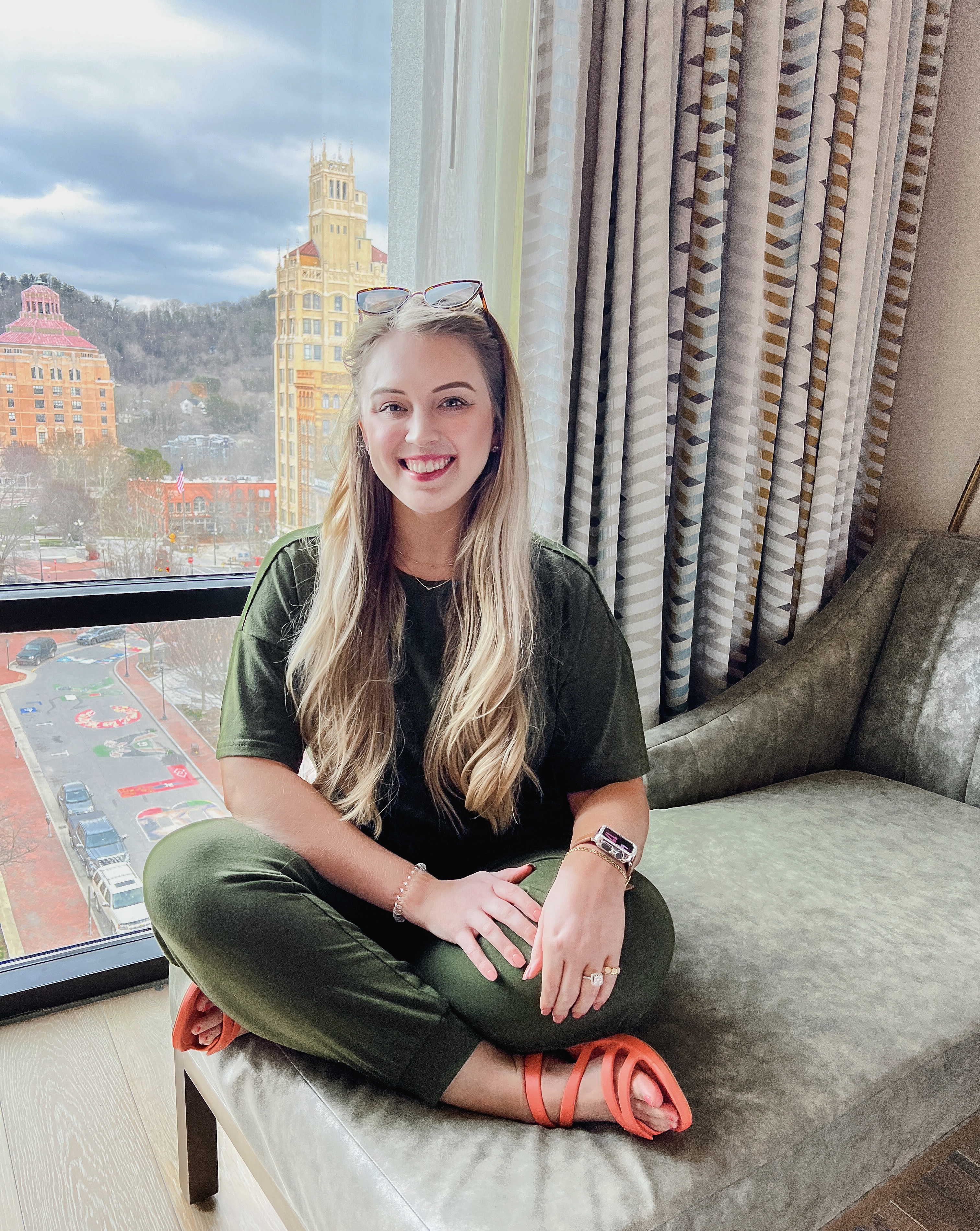 We stayed at the Kimpton Arras Hotel downtown and it's absolutely beautiful. I would recommend this hotel 100% for anyone who enjoys more upscale and luxurious amenities. They have a beautiful outdoor patio complete with seating and fire pits. They also have a bar and restaurant located inside the hotel that is all Art Deco-themed. The rooms also have an understated Art Deco theme and are gorgeous! The attention to detail is amazing. Not to mention, the shower was to die for! I wish I had that in my own house. Lol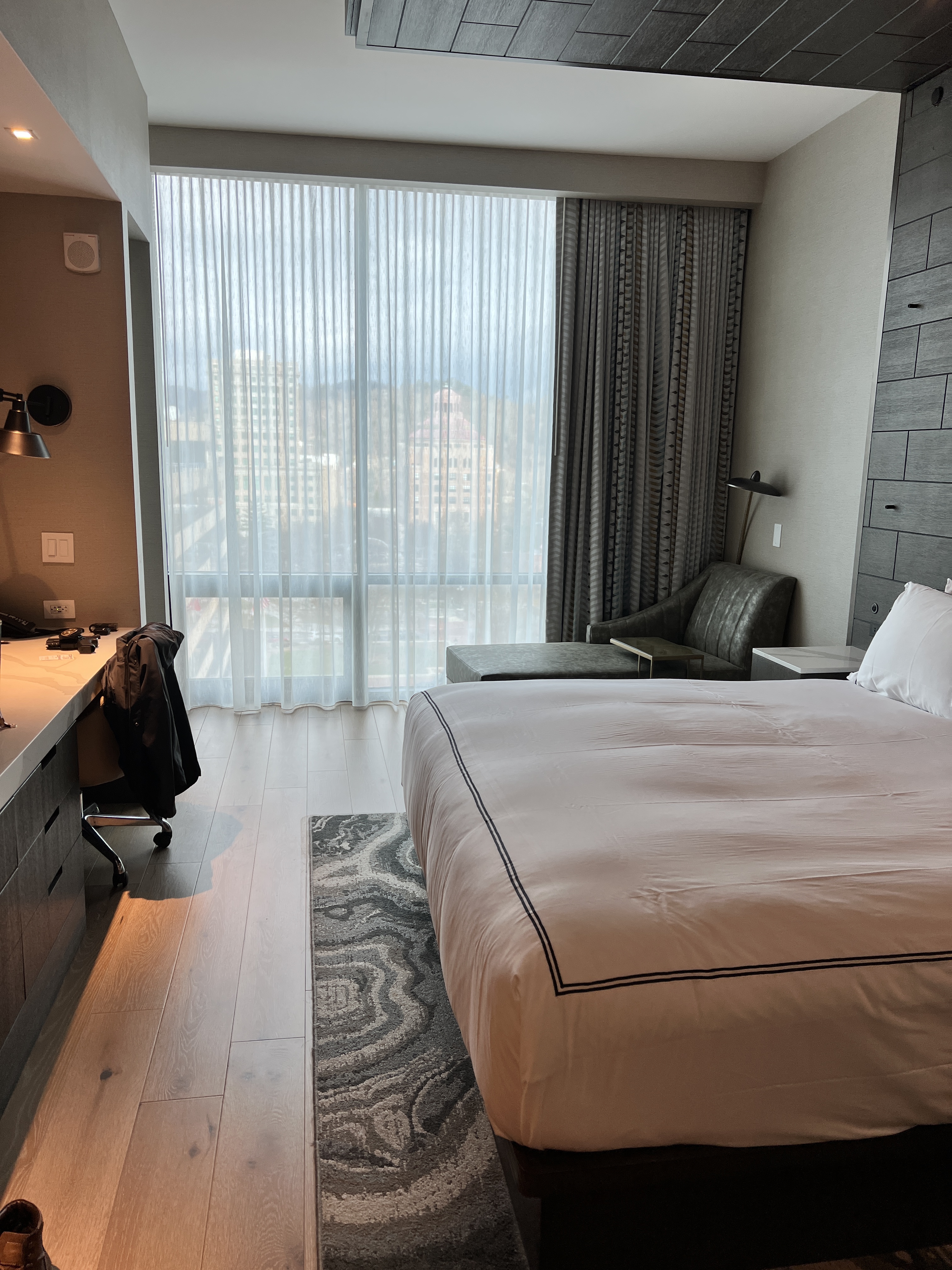 The location of this hotel is perfect since it is right in the middle of downtown and you can easily walk to most of the popular restaurants and bars in downtown Asheville! The hotel also offers valet parking so you can park your car at the hotel and not have to worry about it during your trip. You can easily request it back at any time if you do need to drive somewhere but we just walked around our entire stay. There are plenty of restaurants and shops that are walkable.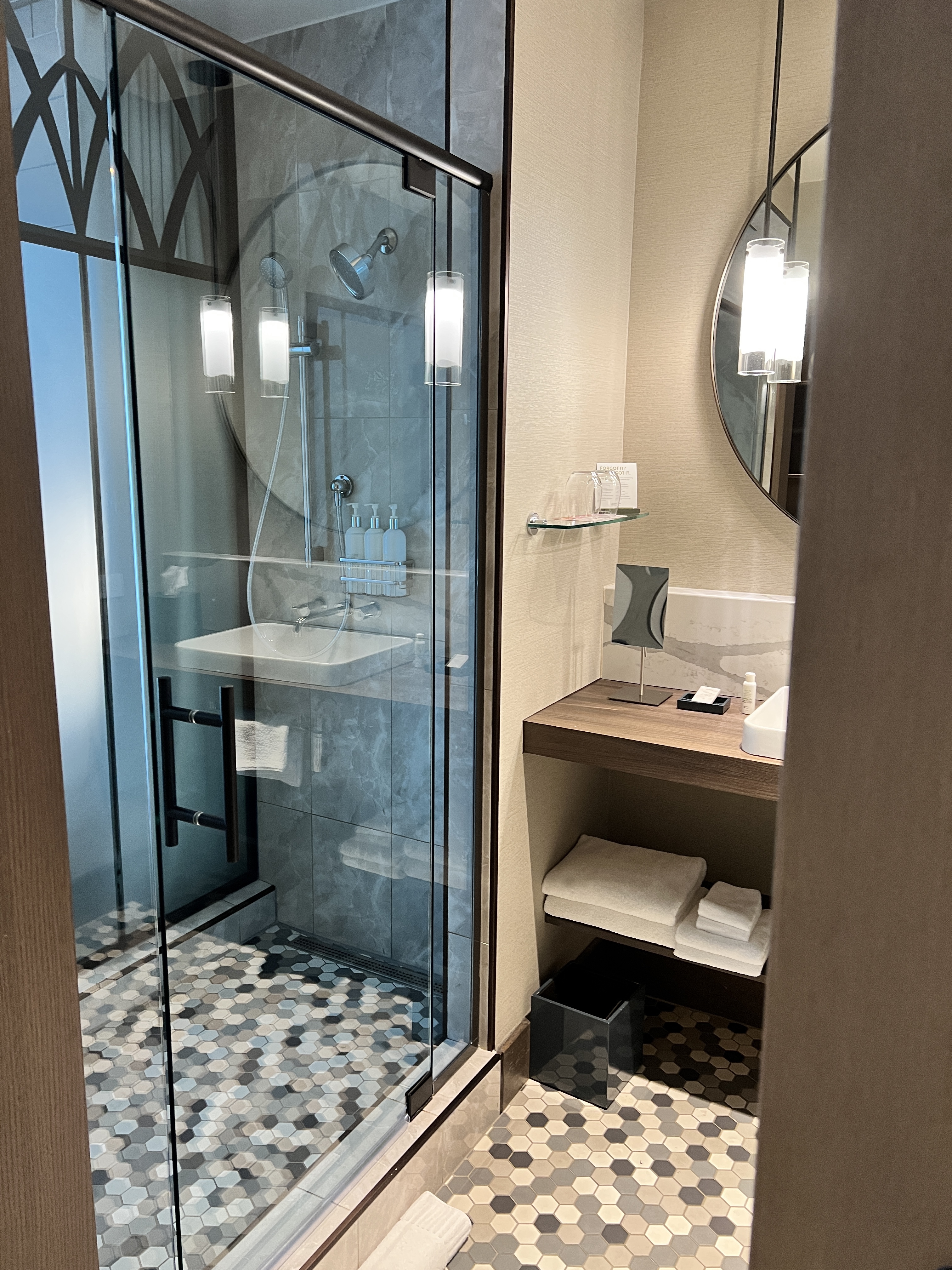 Where We Ate/Had Drinks in Asheville, NC
We also walked downtown and looked for interesting bars or restaurants. Here is where we ate while staying in Asheville. 
The first place we went to was Wicked Weed Brewery and Restaurant for a quick lunch. It was delicious! 
We also went to the rooftop bar in the AC hotel for pre-dinner drinks. The margaritas here are fabulous. 
For dinner, we had a reservation at Chestnut. It's about a 4-minute walk from our hotel and was so convenient for us! The restaurant was so interesting. It's in an old bus station that's been renovated and I loved the old-fashioned style. Their menu was American-style food and drinks. The meals we had were absolutely delicious and I honestly had a hard time finishing mine but it was so good I kept eating! That's when you know it's good! It's probably one of our favorite restaurants that we've tried in the area! 
We had breakfast the next morning before leaving at Mayfels. We had intended on eating at Tupelo Honey (one of our favorites for breakfast/brunch meals!) but they were not open yet. So we made a quick decision to try Mayfels since it was right next to Tupelo Honey. We were not disappointed! It's Louisiana-inspired meals and so delicious! I would recommend their fried chicken and gravy with biscuits. I could not get enough! 
Asheville Outfits
I always try to pack super light, especially on a small trip like this. I bring the necessities like makeup, etc., and really only pack a few pieces of clothing. I did also wear another outfit but I forgot to take a picture. I wore my favorite Amazon two-piece set and just sort of repurposed those pieces for the 2 days of the trip. I also wore my new Aetrex sandals because they are super comfortable to walk around in! Totally recommend them for any type of trip where you will be walking a lot.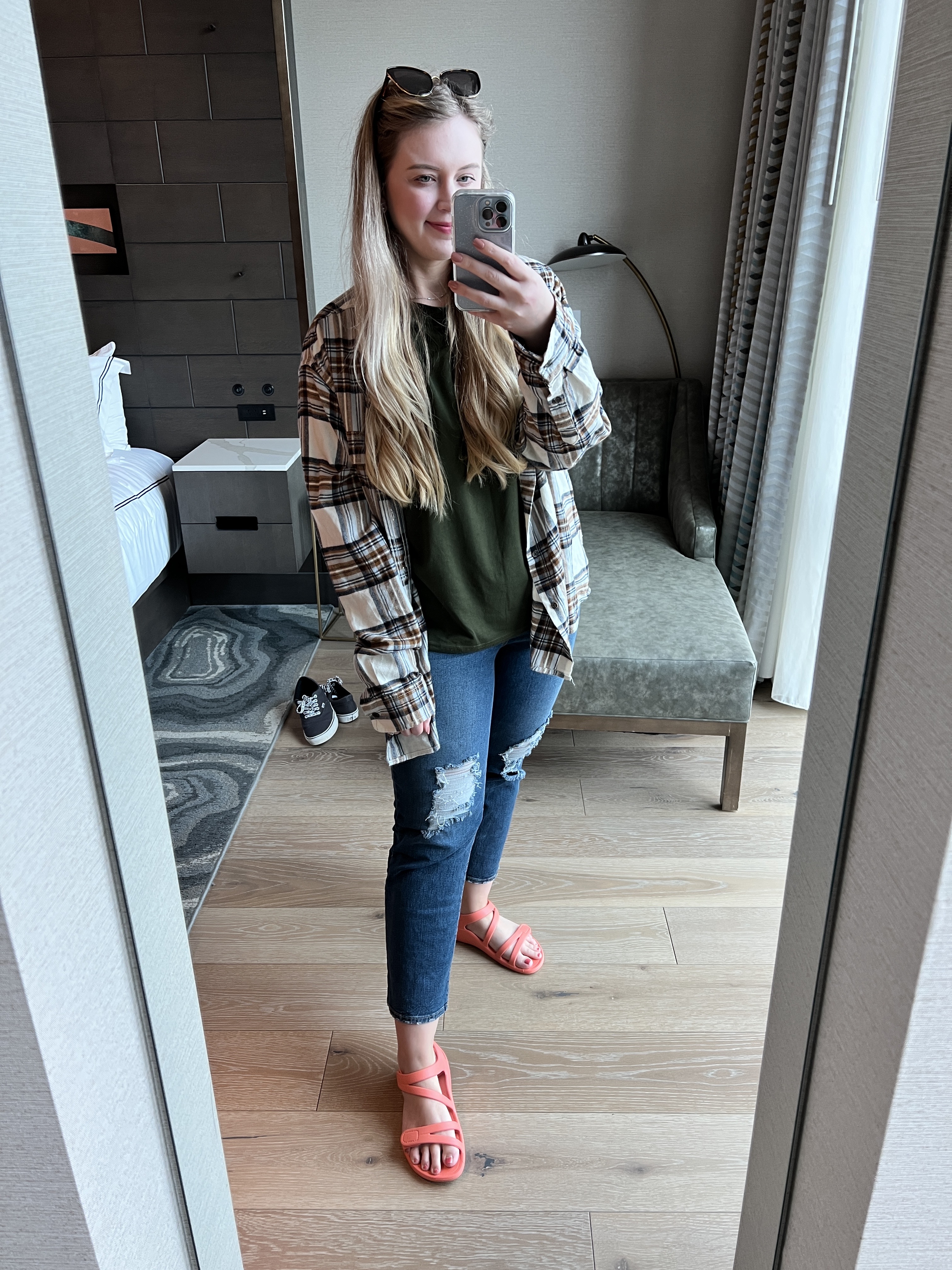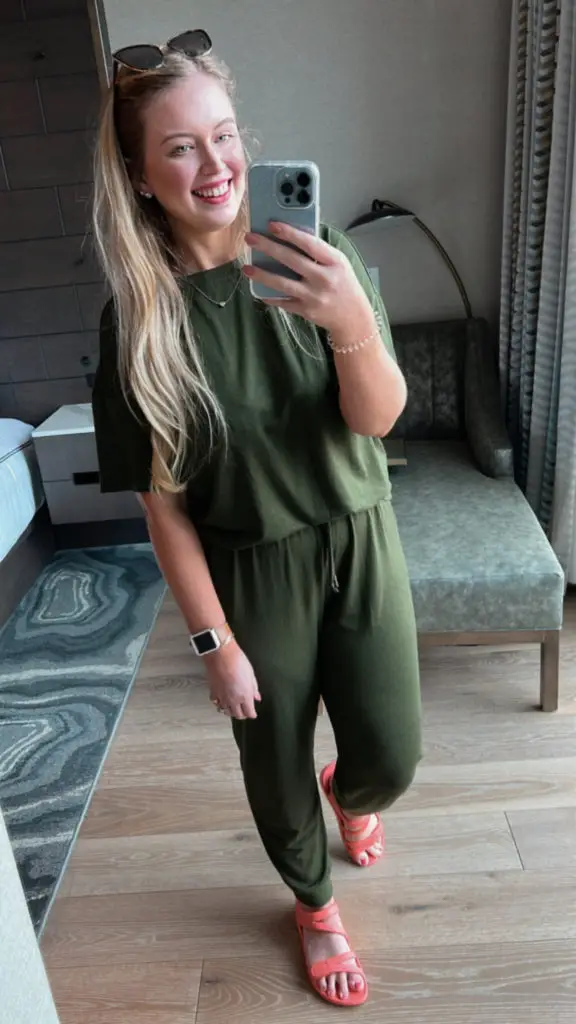 Other Places We Like Visiting In Asheville, NC
Double D's Coffee Bus
Downtown Park in Asheville
Tupelo Honey
Asheville Mall
Downtown Boutiques & Small Stores
Have you ever stayed in Asheville, NC? Where are some of your favorite places to go on a quick day or weekend trip? 
Thanks for reading,


If you like this post, be sure to pin it on Pinterest!