I am super excited to share Splendid Spoon with you! I have been trying out their meal delivery service and it has been a great experience. Keep reading below to see my full review and a special discount for my readers!
This post is sponsored by Splendid Spoon. All comments and opinions are my own. This page may contain affiliate links. Thank you for supporting my blog!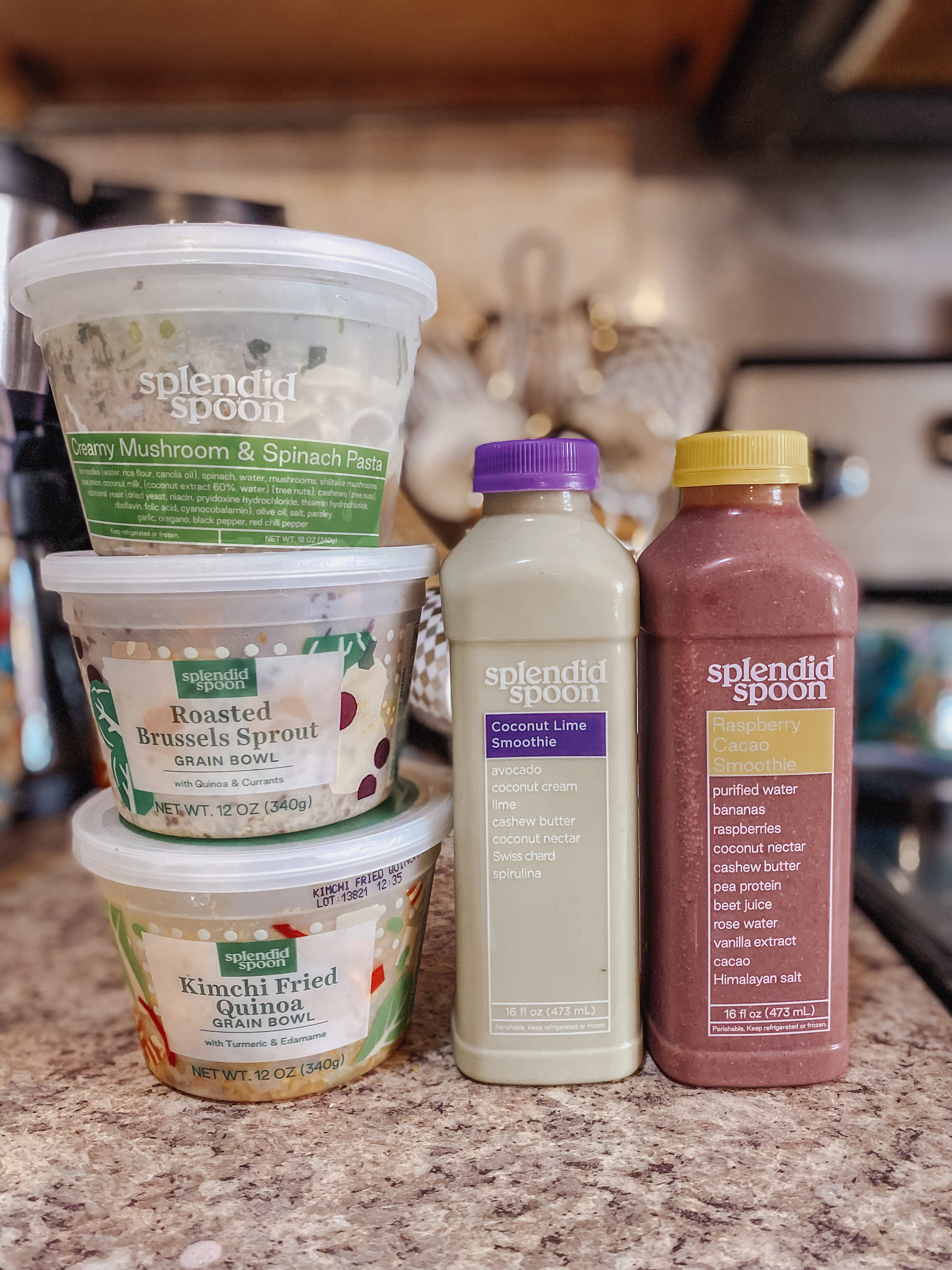 These plant-based meals come straight to your door and make it super easy to eat healthy. I love how simple and easy the process is! I pick out what variation of meals I would like, and I receive them on my doorstep within a couple of days!
All of the meals are plant-based, gluten-free, and feature good-for-you ingredients. I have tried many of the different flavors and think they are great. You can easily leave your meals to thaw in the fridge then stick them in the microwave when you are ready to eat! It's so simple and great for someone who is always on the go but still wants to eat healthy. I know as a work from home mom to a 3 year old that these meals are totally life savers when I'm too busy to cook for myself!
Taste Test
I have tasted many of the options in the meals and they are truly delicious! I was shocked the first time I tried it considering most "healthy" or plant-based meals can tend not to be so great at least in my experience. My favorites are the Mexican chili, spaghetti and meatballs, and butternut squash noodles.
The only ones I typically stay away from are the bowls with Quinoa (not my favorite thing to eat) but the meals are still tasty either way!
I recommend getting a mixture in your first box to see what you prefer the most, then order from there.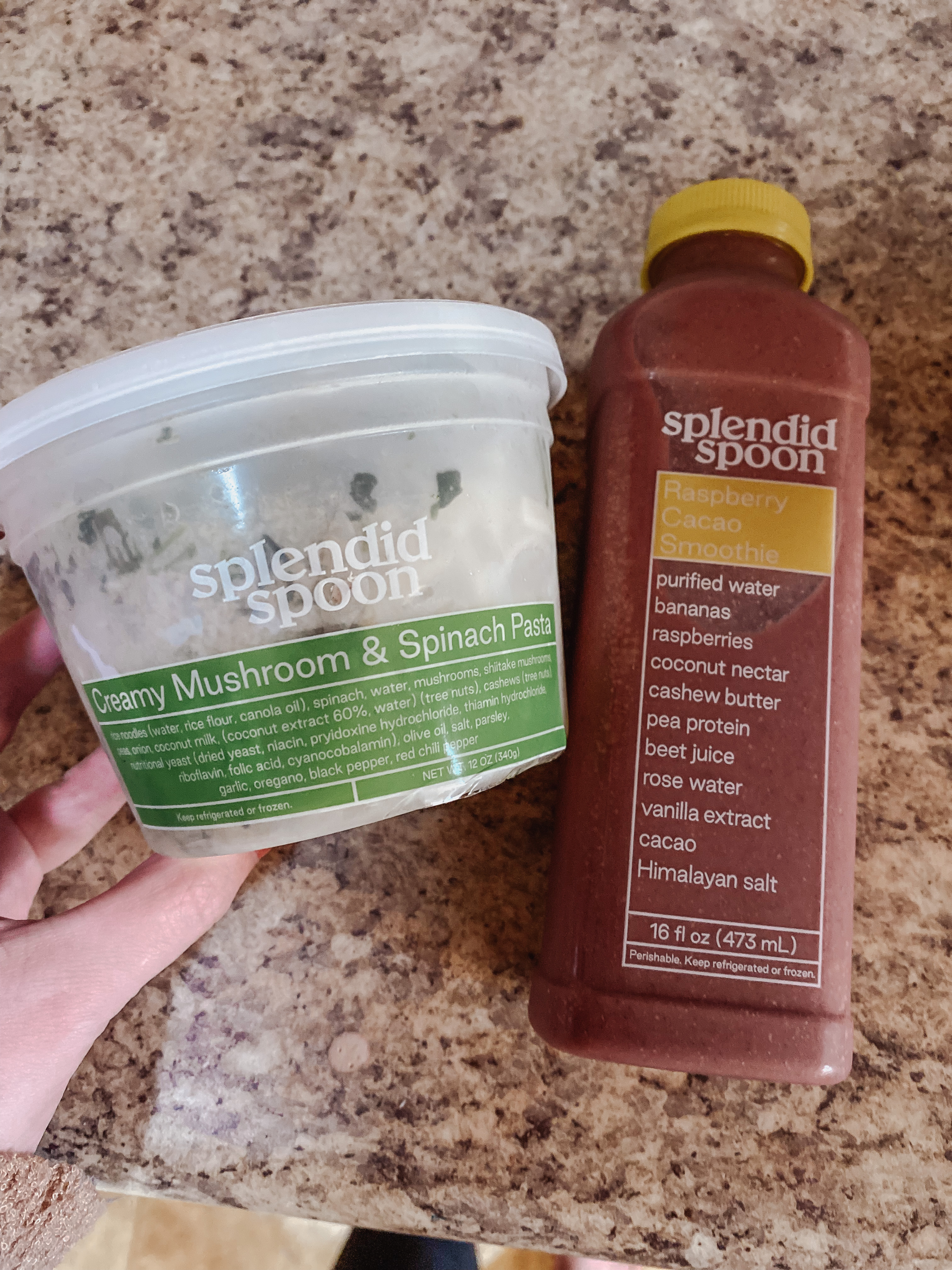 Splendid Spoon Smoothies
Who doesn't love a good smoothie?! These are full of great, delicious, good-for-you ingredients! I love how I can easily grab one of these out of my refrigerator when I am in a rush and don't have time to prepare a meal. They also have tons of different flavor options to choose from, including seasonal options like Pumpkin Spice!
Taste Test
I have loved all of the smoothies so far except one. It was the one I was the most excited about too! The Coffee Frappe Smoothie was extremely strong. I can't tell if it was the coffee blend used or some other ingredient but it was STRONG. If you like strong coffee and flavors then you would probably like it, it's just not for me. But the other flavors are great!
Many of them have a light fruit flavor and are super easy to drink. I love having these in my fridge for when I'm feeling hungry for a snack or after a workout. They totally fill me up and keep me from reaching for a sugary snack or drink.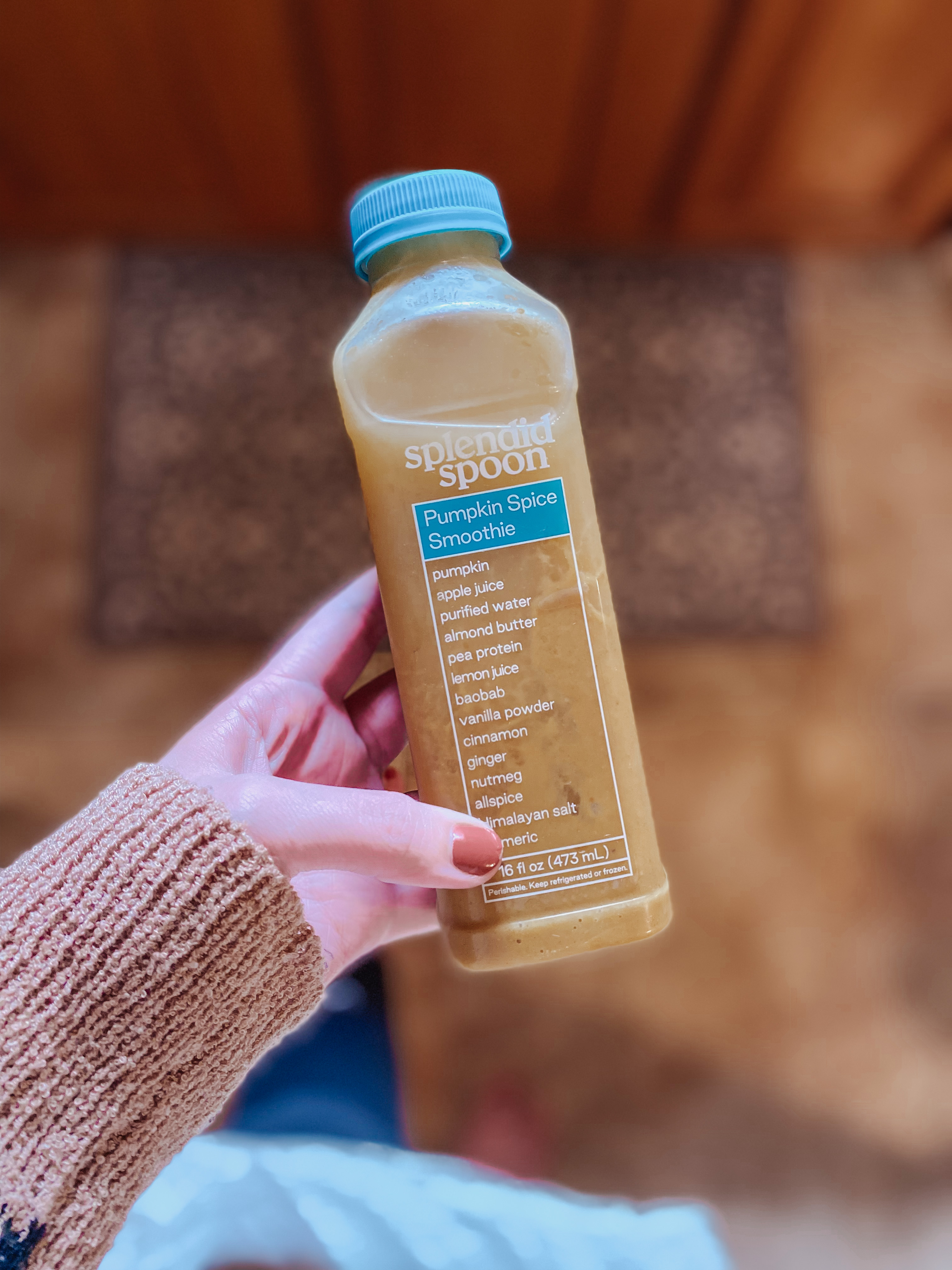 Splendid Spoon Shots
Splendid Spoon also offers shots that include recovery, detox, wellness, and digestive ingredients. These shots are formulated to target specific needs of your body and are very concentrated.
Taste Test
The shots I have tasted are very strong flavors. They are very concentrated and not watered down. Some of them can be hard to drink for me, but in all honesty, I am not used to taking shots of any type of healthy ingredients! I would definitely recommend these if you love taking any type of vitamins or strong fruit/vegetable juices to enhance your health!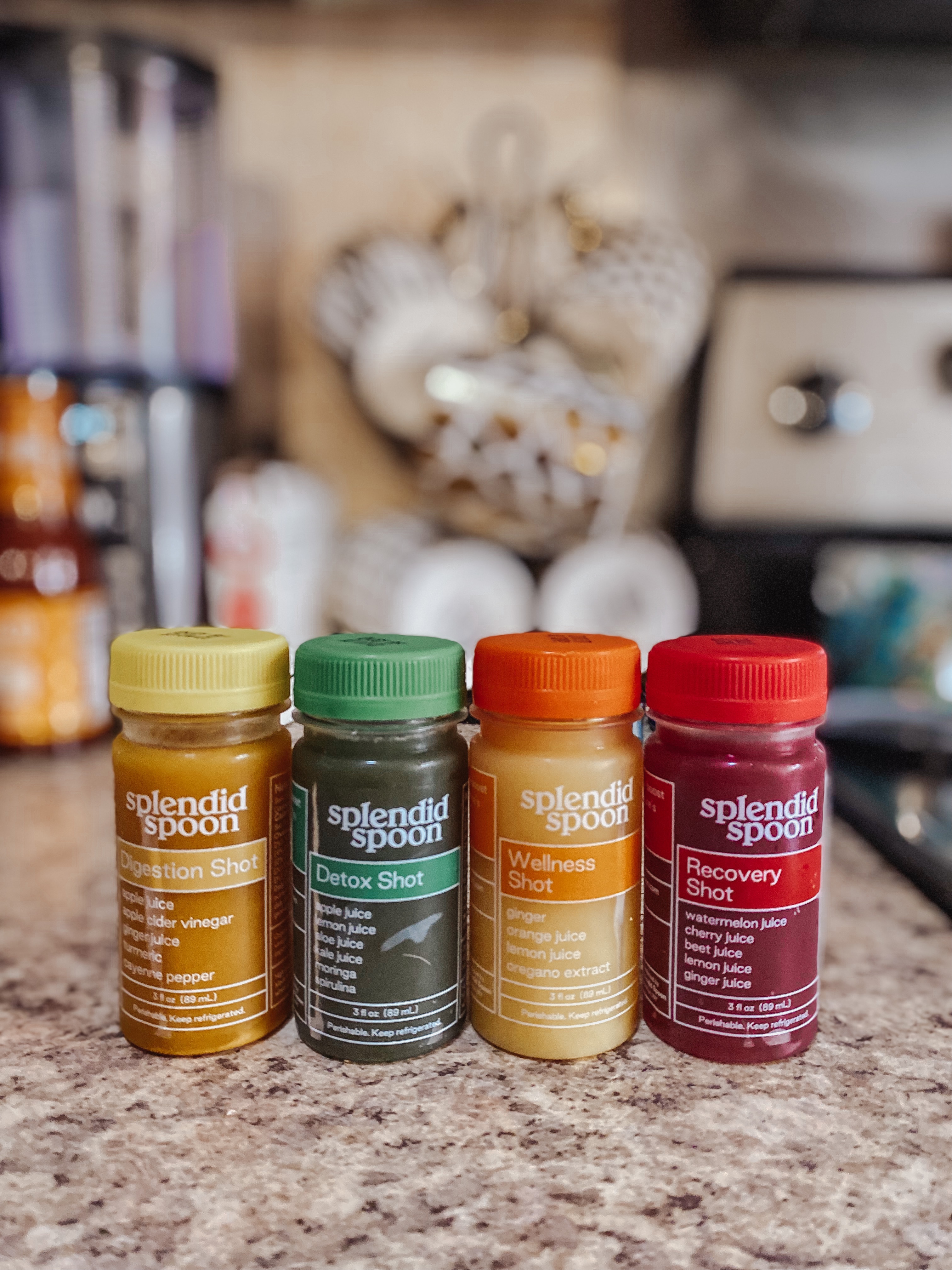 Final Thoughts
I have been super impressed with Splendid Spoon. I think this is a great meal delivery service for anyone who wants to eat healthy but doesn't have a lot of time on their hands. I am a work-from-home mom with a 3-year-old so I am constantly on the go. I feel like Splendid Spoon has saved me so much time and I also feel great about what I am eating and putting into my body! It's a win-win!
I also love knowing that these meals are all gluten-free, plant-based, and no artificial sugars added so I'm confident they will not make me feel sick or I will have a reaction to something. I feel 100% confident eating these meals, plus they make me feel great!
Splendid spoon offers multiple different meal plans available, so you can sign up for weekly delivery or you can even just purchase certain items once to try with no obligation to buy more.
There are multiple different options and there's something that could work for anyone on any schedule!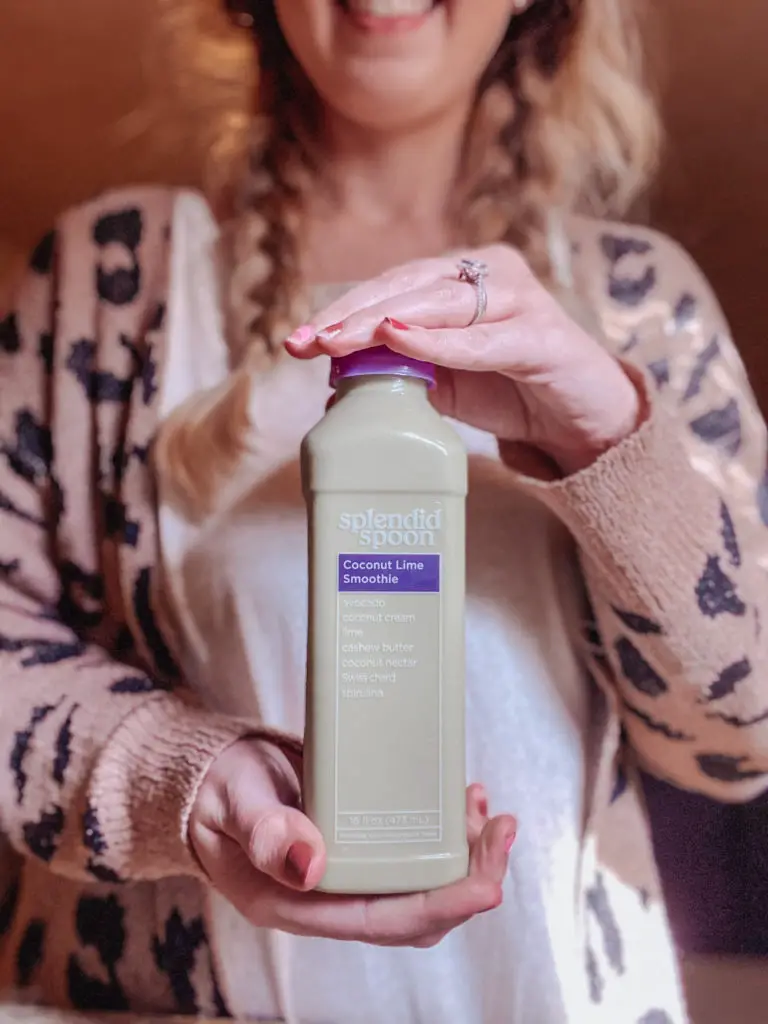 Where to Buy
If you are thinking about trying out Splendid Spoon, make sure you CLICK HERE TO SAVE $60 OFF YOUR FIRST ORDER!
Have you tried Splendid Spoon? Let me know in the comments below!
Thanks for reading,


If you like this post, be sure to pin it on Pinterest!