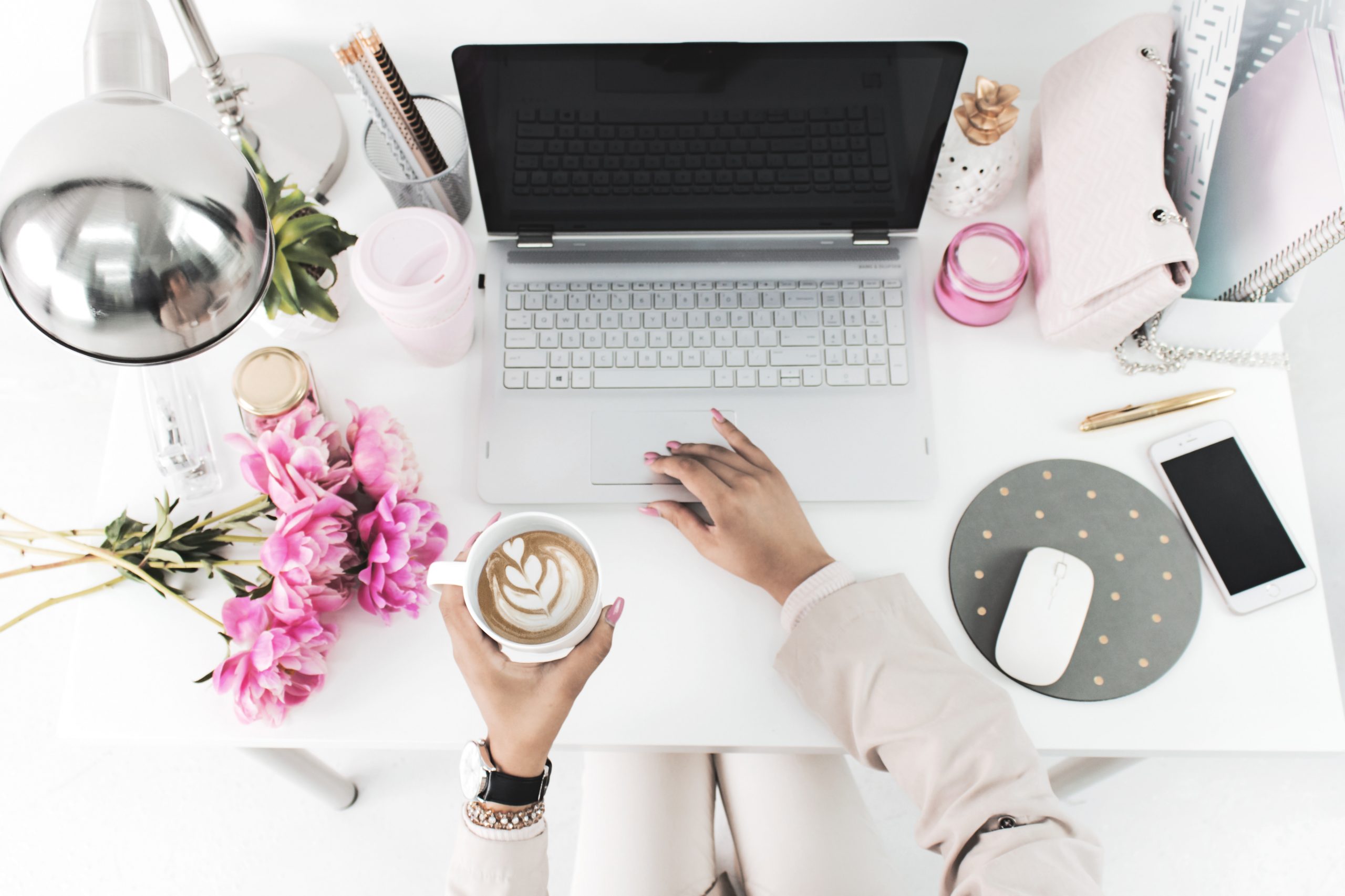 In this blog post, I am going to be sharing how to start a profitable blog on a budget. Have you been wondering what it would be like to start a blog and share your creativity with an audience all while earning a little extra cash on the side? Well, I wondered for years while sitting back and watching others online grow their blogs and their following. Many people have made blogging their full-time job (which is crazy, but very achievable)! It can be very simple to start a profitable blog on a budget.
How to Start A Profitable Blog on a Budget
Can you really start a profitable blog? 
I was just like you, wondering how to start a blog that wouldn't cost an arm and a leg, mostly because I am a very realistic person and I realized that this might be something that doesn't work out for me. Or, I might realize that it's just too much on top of my full-time job and my other full-time job (being a mom lol) But, I was determined this time to actually start my blog and make something happen. If you are interested, you can read more about my blogging journey on my About Me page.
Let's invest in ourselves! 
I will be sharing what I did to start my new blog on a budget while still keeping it stylish and ready for my audience to view. Let me say this as a disclaimer, I really believe that you should invest in yourself if this is something that you truly want to pursue, even just as a side job and not a full-time income. If you treat your blog like a business and if you want to earn an income, then you have to invest in the new business before you can attract your customers aka your audience.
1. Figure out your Niche 
So, first things first. You have to figure out why you are blogging. If you are doing this to be profitable then you have to figure out what niche you want to write in. It is always better to focus on one or two topics in your blog rather than five or ten. I read this so many times before starting my blog and it never made sense to me.
But, now that I have been blogging for months I understand. It is much much easier to rank in Google if you only write about certain topics. If you write about a million different things, then Google might not know what you and your website are all about. 
Now, there is an exception. If you want to have a lifestyle blog (like me!) then you can write about different topics but I would still narrow it down to three at the most. I would pick the three main things you would like to write about and leave it at that.
Also, if you are blogging just to blog and are not interested in making money on the side then by-all-means write about whatever you like! Feel free to be creative!
Keep in mind that I may receive commissions when you click on my links and make purchases. However, this does not impact my reviews and/or comparisons. If you do use my links, thank you so much for supporting me and my blog!
2. Find a Hosting Website/Buy a Domain Name
Next, you need to find a hosting website (where your website will be hosted and located on the web at) as well as purchase a domain name (the name of your website) I researched many of the hosting websites out there and finally decided on HostGator.
HostGator was the best option financially, which was a huge deciding factor for me personally. I wanted to start my blog but not spend a fortune. They offered a lot of different options, which made me feel much better. You can pre-pay for years in advance and save a little money or you can pay month to month. I loved that they gave you that option.
Some hosting sites do not give you the option to pay month to month so you have to pay a large amount upfront. Personally, I did not want to spend more upfront because I was not sure if this blogging thing was going to work out and you might feel the same! 
I also found out that their customer service is amazing. I had a few issues while going through the process of switching over my WordPress hosted blog to a self-hosted site with them, and they walked me through the process step by step! They made everything as simple as possible for me, which really helps when your a new blogger and have no clue what you are doing! Plus, their customer portal is super easy to find links you are looking for and they have 24/7 chat available to help you out if you prefer that instead of speaking over the phone.
If your thinking of starting a blog, definitely check out HostGator and look at their hosting plans! You might find it to be a lot less than you think. They also offer FREE domains with their hosting (which can save you some money in the long run!) All in all my experience with them has been great so far and I recommend them 100%!
I have been with them for over 6 months now and I have not had any issues whatsoever. I think they are a great starting host for a new blogger, and at a great price! 
How to Sign up with HostGator: Step by Step Instructions
Once you click the link, it will take you to this screen. I chose WordPress hosting because I love using WordPress and find it the easiest way to start out. It's totally up to you but I recommend WordPress!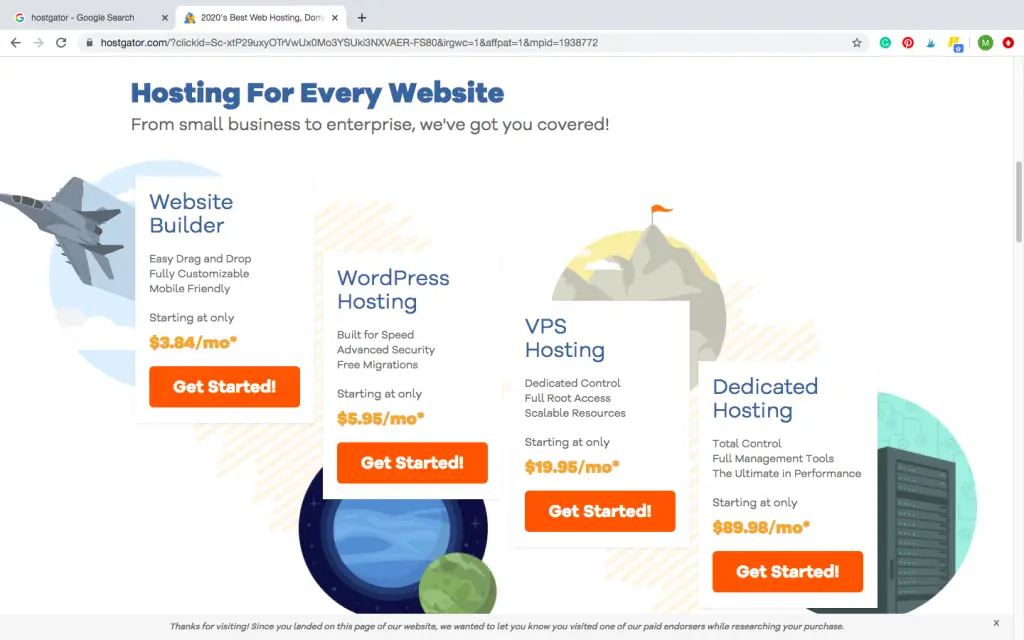 Afterward, it will take you to this page (if you chose WordPress hosting) You can see they offer different plans depending on what you will need. I started out with just the starter plan, the cheapest option. You can go back and switch plans whenever you feel necessary, but I recommend starting with whatever plan you think you will need at the beginning of your blogging journey.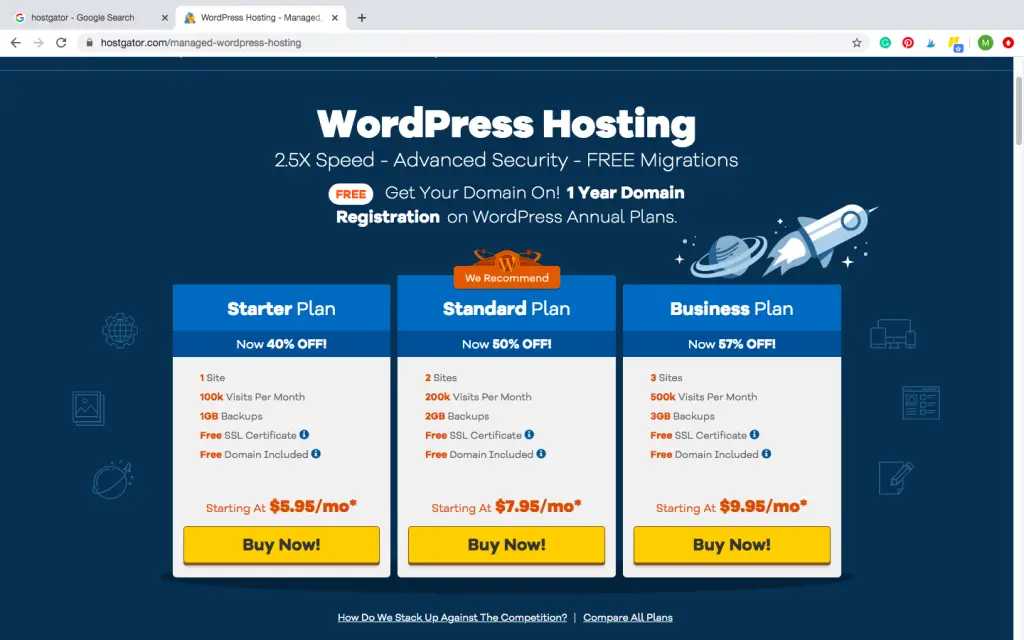 You will then be directed to a page to sign up for your hosting and pick your domain name! You can see that many of the options give you a free domain name for a year, which is a great deal.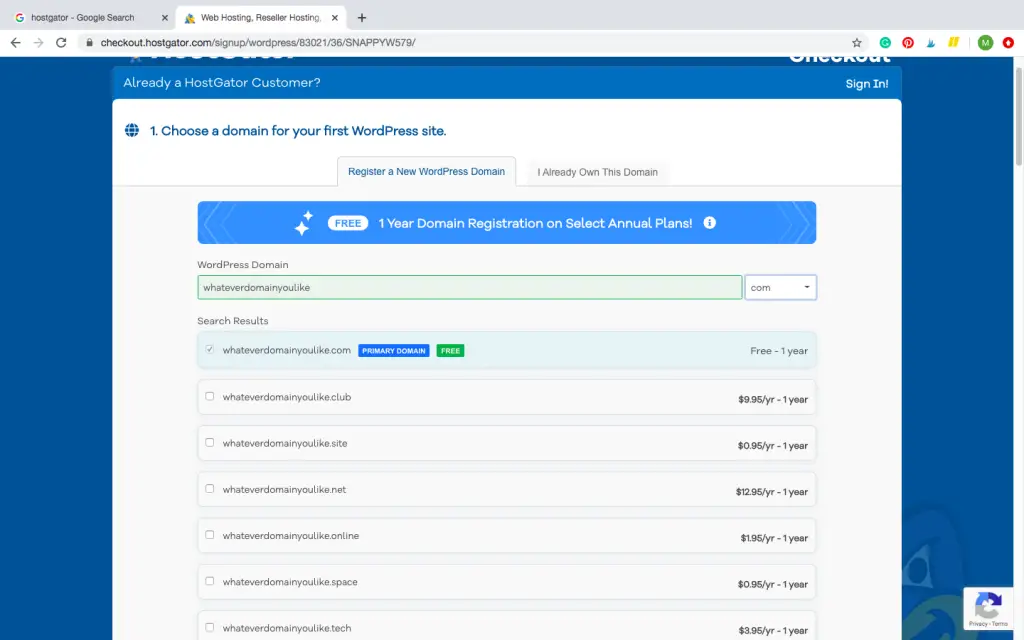 After you choose your domain name, you come here. This is where you choose the number of blogs and enter your billing information.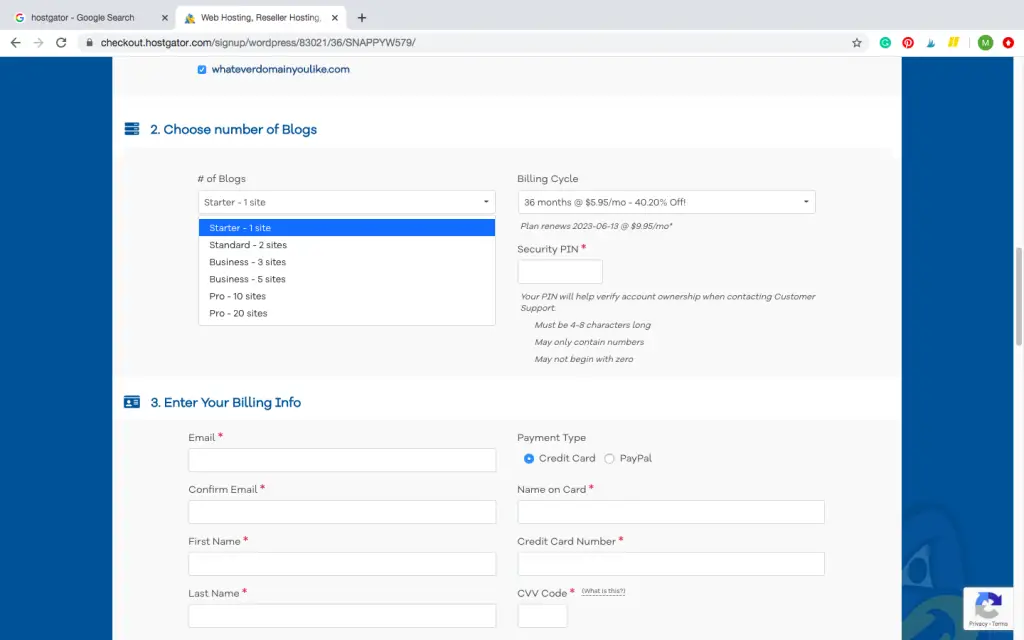 You can also choose additional services to add on to your package. It will list your coupon code (that you get for clicking through my link to sign up!) and it will show you everything you have chosen and your final pricing below.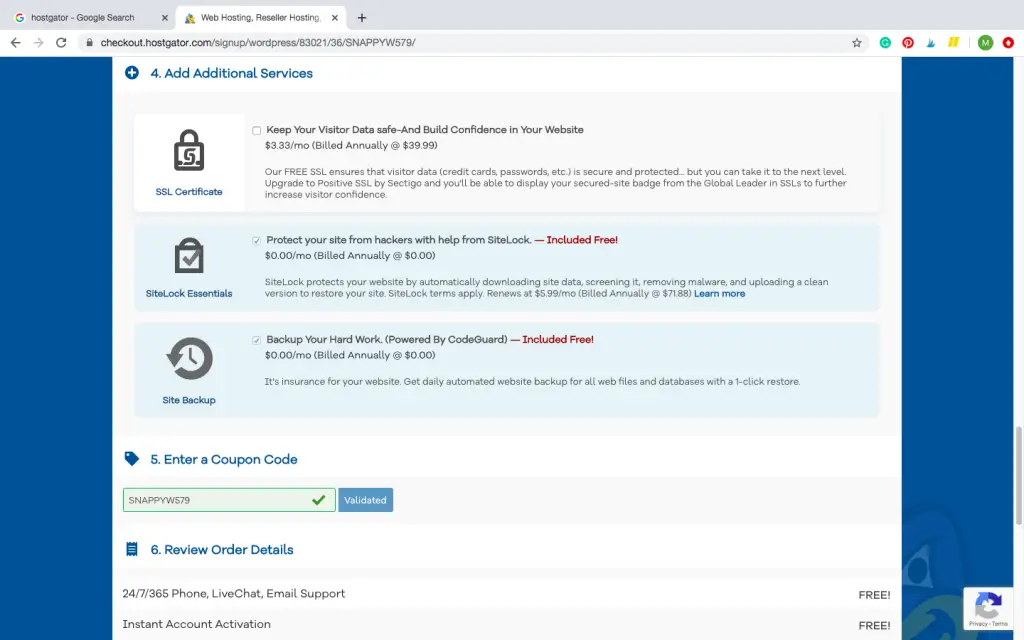 Yay! You're done!
You officially have your own domain and hosting set up! Now comes the fun part: creating your website and all of your content! 
2. Find a Blog Theme
Once you have your domain name and hosting set up, you officially have your own self-hosted blog! Congratulations! Now the next step is to make it look pretty and easily readable for your audience. There are thousands of options out there to make your blog readable to the public. The first thing that I did was install a pretty blog theme. 
I tried to think of what would my audience like to look at? What would they enjoy? You want your theme to be something that corresponds with your writing niche as well as be simple, easy to read, and inviting. I love using Etsy to search for these themes.
There are a lot of great designers out there selling their themes for WordPress and many of them offer support (to help you install to WordPress) as well after you have purchased their theme! It's definitely not easy installing a theme if you have never done it before, so it's nice to have some help from the professionals!
I feel like Etsy is always the most affordable option as well. So I would check out their themes if you are looking to purchase one before you purchase it somewhere else! They are usually always running some type of sale! I have listed some examples below of some of my favorite themes available. 
Blush WordPress Theme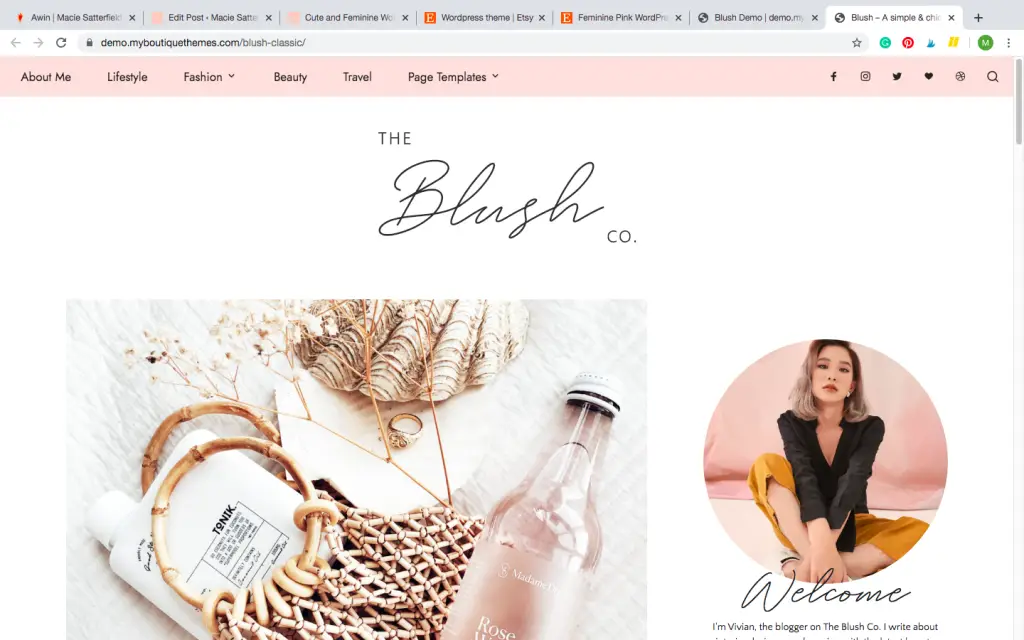 Billie WordPress Theme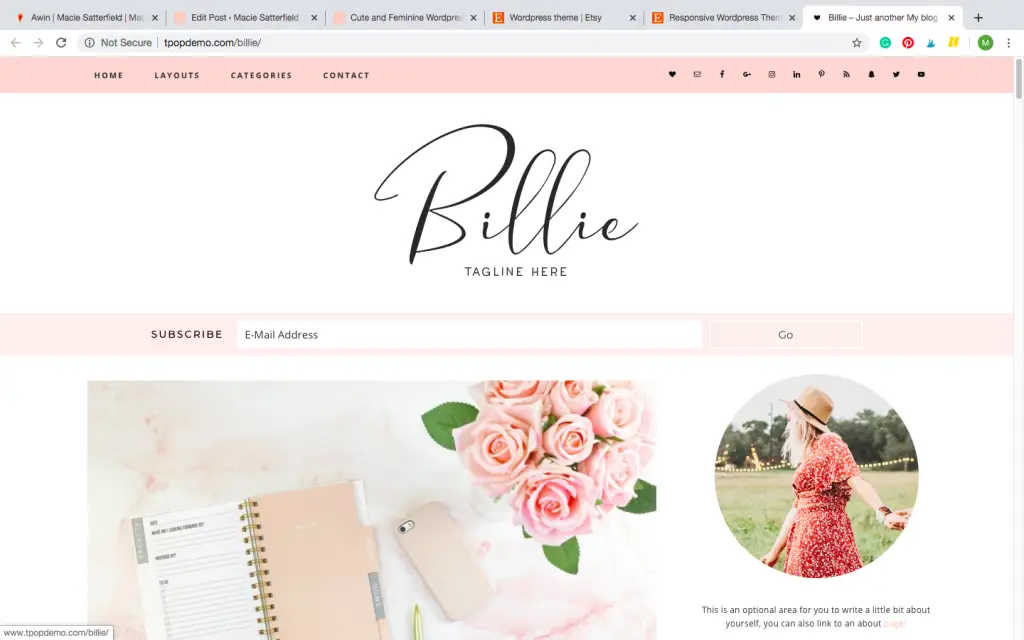 Hello Peach WordPress Theme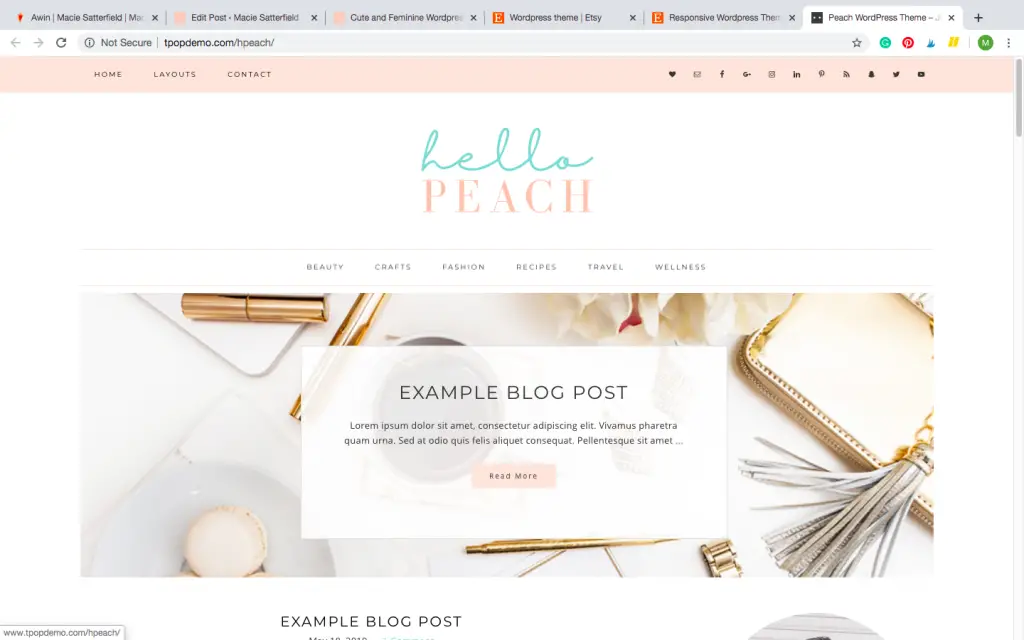 3. Write Some Fabulous Content
This has to be the hardest part about starting a blog, writing your content, or also known as writing your own blog posts! You need to sit down and think about two things.
How many blog posts do I need to launch my blog?
How much time am I willing to devote to writing content?
This part can be extremely time-consuming or it might even be relaxing and fun for you. It really depends on how well you like to write (or type) and if you know exactly what you are going to be blogging about. You have to have a niche that you feel 100% comfortable in to be able to sit down and write out a blog post that will really reel in your audience and give them what they need or want! Some of the best posts to write are how-to posts, list posts, numbered posts, etc. People are always looking for information or the answer to a question. Make sure that you are giving your audience what they are looking for and they will keep coming back for more. 
If you need some blog posts inspiration, check out 200 Blog Post Ideas for Lifestyle Blogs that features tons of blog posts ideas for multiple different niches that can easily get you writing today!
I would try to have at least a month's worth of blog posts ready to go or at least drafted and ready to be published. That way the first month of your blog's life can be used to promote it, instead of trying to write content. It can become stressful if you are trying to learn all the tools of blogging like promoting your posts, learning affiliate marketing, email marketing, etc. and still trying to write blog posts on top of that. 
Take it from me, you will love yourself later if you get all of your writing done now! Then, you can sit back and focus on learning the ins and outs of making a profit with your blog. You can always go back later and edit your posts once you feel you need to add more information or links to them. 
4. Get Your Blogging Tools Together
There are certain tools you will need to really help your blog gain some traction after it's launch. Here are a few that have really helped me gain (and keep!) an audience early on!
Essential Blogging Tools
TailWind (For Pinterest and Instagram) HIGHLY highly highly RECOMMEND!!! My Pinterest has really benefited from this and the best part is that I only spend a few hours a week picking out pins to repost and then everything is automated for me at the best times to post throughout the week! Check out How To Grow Your Pinterest Views Fast if you are interested in learning more about Tailwind and how it works. 
Google Analytics (for looking at your blog analytics and traffic)
Unsplash – Perfect for beautiful stock photos for your blog 
IvoryMix – A great resource for stock photography or stock photography membership 
Canva – graphics for your blog and Pinterest
Mail Chimp – for your email list and advertisements
Affiliate Programs 
Impact – a great affiliate program! Some of the brands I work with are Target, Walmart, and Old Navy. There are hundreds more. I totally recommend this program. 
Awin – Awin is new to me, but it has some great reviews. 
ShareaSale – I love this affiliate program. It has been the easiest for me to learn how to work. I would recommend this program to any new blogger for sure! 
5. Launch Your Blog
Now that you have your blog hosted, a theme picked out and installed, all of your information in place, and a month's worth of blog posts, we can now pick a launch date for your blog! I would pick a day and time that you know you will have time to watch your blog and see how it's doing and make sure that no problems arise in your coding. Now it's time to sit back and watch your blog grow!
Now you have an official ready to be profitable blog! In my next blog post, I will be sharing all of the tools I am currently using to gain a profit from my blog. It will include some of my favorite affiliate programs as well. A lot of these programs accept new blogs and are easy to fill out an application with.
It can be extremely challenging to start a blog and it takes a lot of hard work. If you've made it this far, Congratulations! I know it wasn't easy but look at how far you've come! If your interested in monetizing your new blog then look out for my next post that will go over multiple different ways to monetize your new blog and help it become profitable (even in the first few months!)
Thanks for reading, 


If you liked this post, be sure to share it on Pinterest!