How many times have you found a product you absolutely love, want, and need and end up putting it on a credit card or using Afterpay, Affirm, etc? I know the feeling all too well. The "must-have it" feeling instantly turns into buyer's remorse when you receive your credit card bill or have to make payments on this item. If you tend to do this, it can really add up over time and turn into a whole lot of extra debt you really shouldn't have! It can cause extra stress on your financial budget each month, especially if you are making a lot of monthly payments on items you could've saved up for and paid in full when purchased. I have found a great way to save money and shop smarter using Reel!
Compensation for this post was provided and this page may contain affiliate links. Thank you for supporting my blog!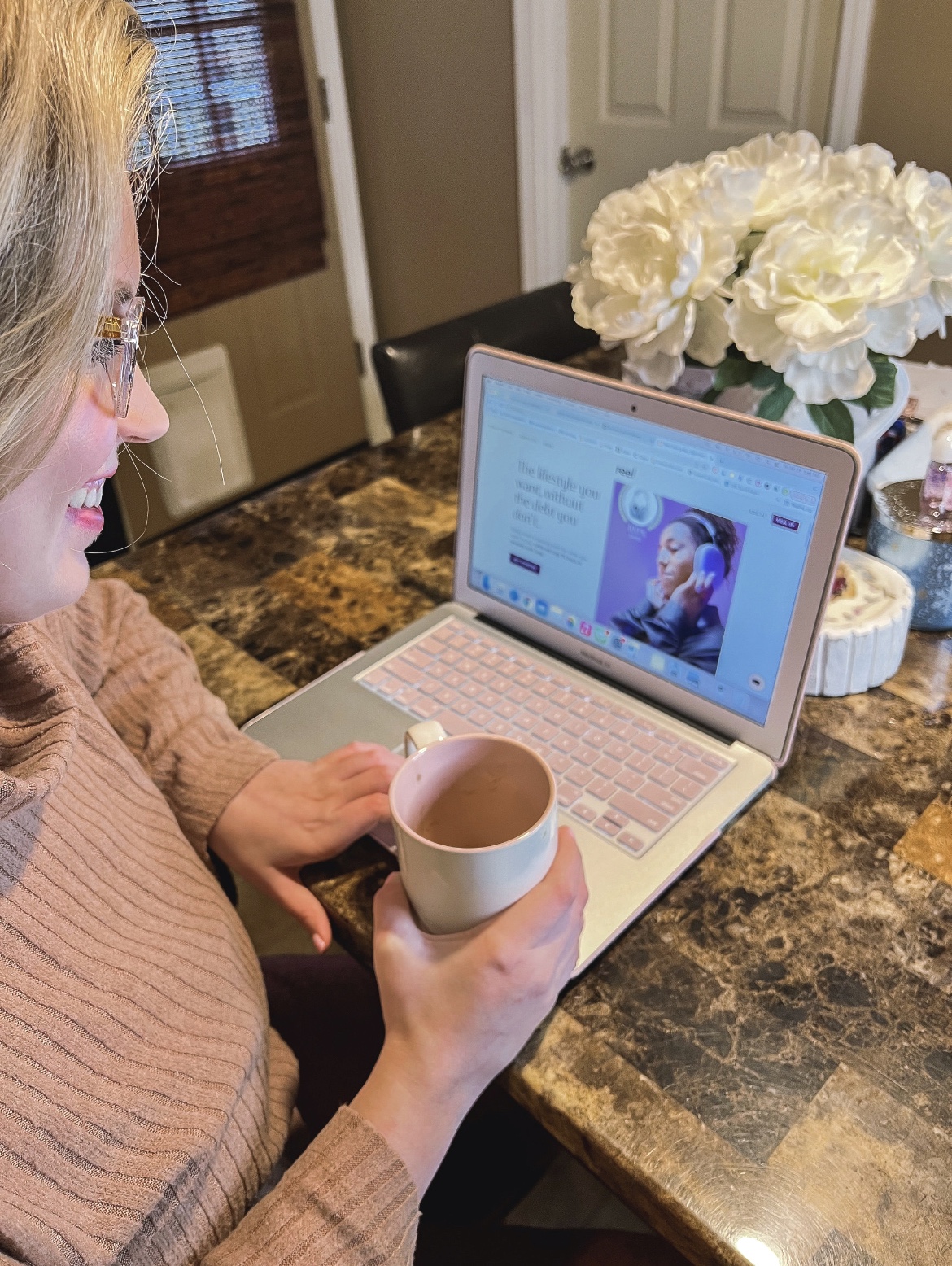 Save Money and Shop Smarter With Reel
If you relate to this, then you will love Reel! Reel is helping people rethink how they save, spend, and use their own hard-earned money. They make it super easy for you to save up a specific amount of money and even help you find the lowest price available on your item when you are ready to purchase! It's like a win-win for anyone who is a shopaholic (like myself!) and helps keep you DEBT-FREE!
Here's how Reel works:
Tell Reel Exactly What You Are Saving For
Reel has millions of products from multiple stores that you can choose to shop for. The most popular categories include fashion, beauty, children's products, toys, electronics, home items, and even travel. I decided to save for a new Macbook. You can see below my screenshot of how the process works. It's very easy to understand and simple to set up!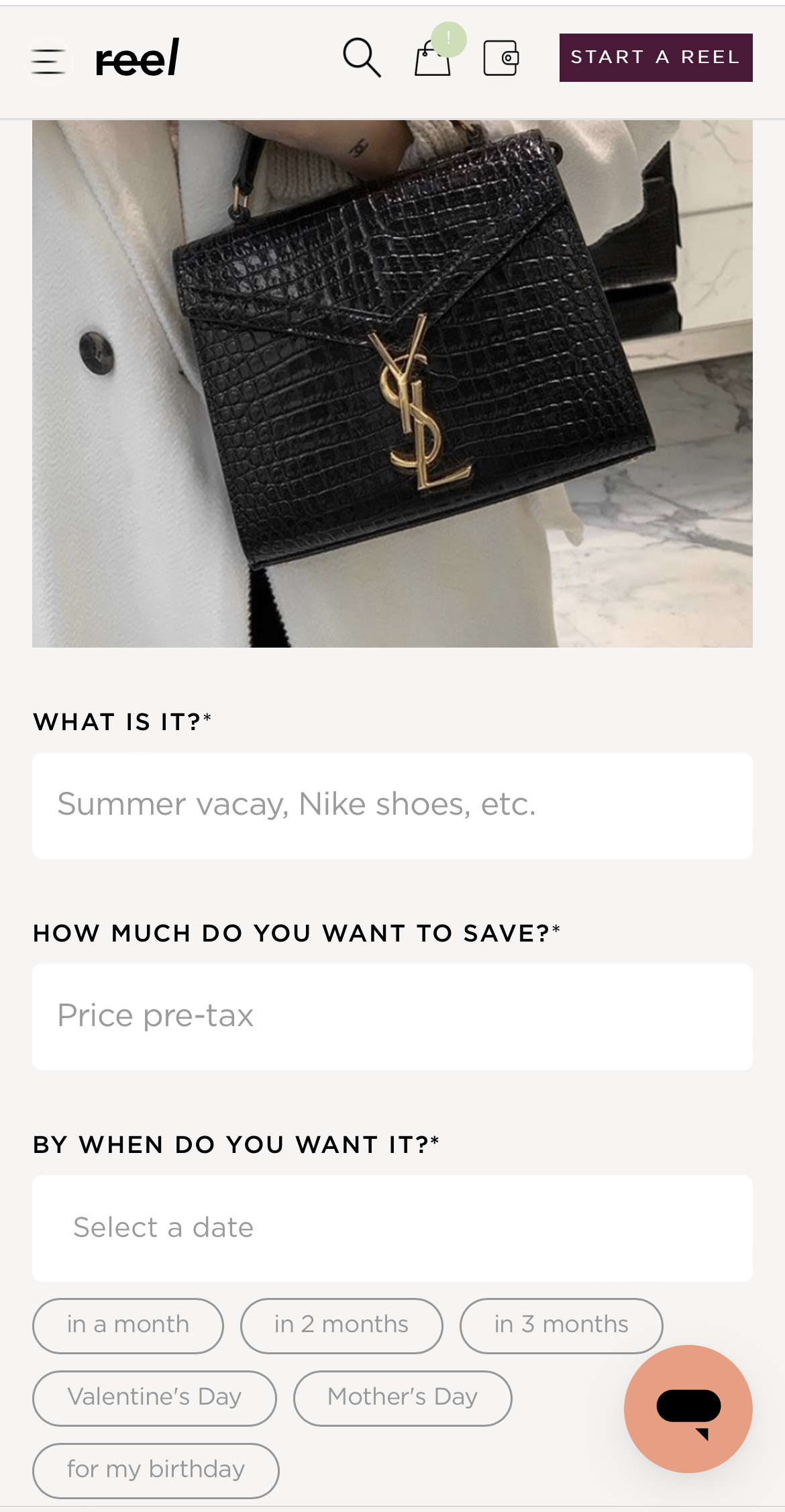 Set Your Saving Strategy
After you have chosen a product to save for, you can set up a saving strategy. I love how Reel does the work for you! They gave you options on how quickly you would like to save and how much per day, weekly, bi-weekly, or monthly. You can see below the different options it shows you and you just pick whichever one works best for you and your financial budget.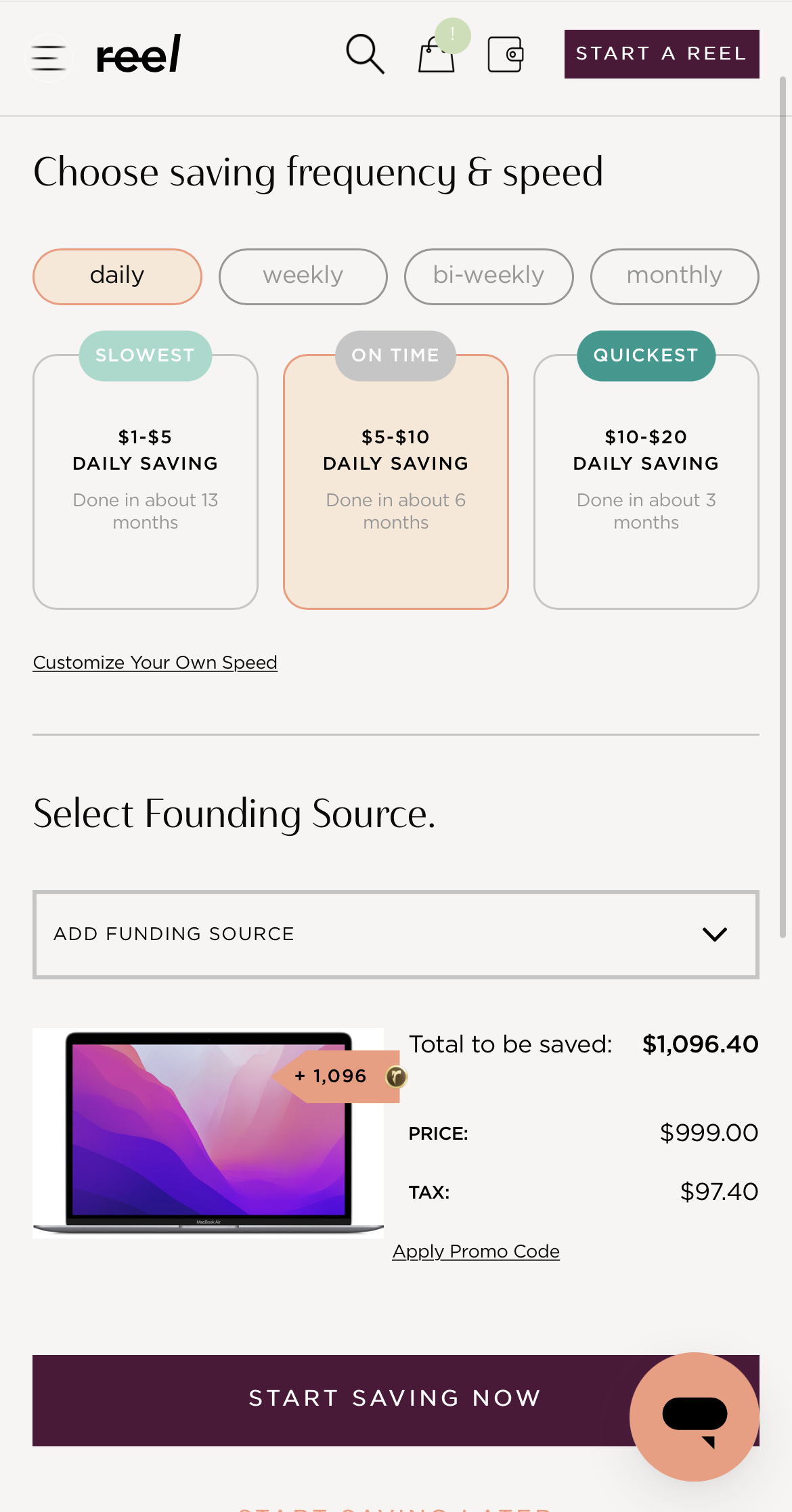 Save Up, Then You Own It!
Once you have set up your saving strategy, you connect your bank account or card you would like to transfer this money from. Reel will automatically make these transfers for you on the schedule you chose. After you have saved up the entire amount needed, Reel will confirm your details with you and make your purchase in full. You will own your product completely debt-free!
What's special about Reel?
So, if you've made it this far you are probably wondering what's so special about Reel? Well, Reel also gives you 1% back in rewards for any amount of money you have saved! You can take those rewards and apply them to your future purchase which means you need to save even less of your hard-earned money and complete your goals even faster!
Reel also constantly checks for better deals on your chosen item to help you save even more. They help you shop smarter by getting the best deal and saving up for your chosen item even faster! They also have a chrome extension you can use to save for any product available online with the push of a button.
Should You Use Reel?
Absolutely, YES! I love how Reel encourages you to save up for items rather than charging them on a credit card or using a payment service. I personally think this would be helpful to so many people, including myself. You can easily set up saving plans for the newest fashion trends, a nice vacation, or a new laptop. I am so excited that this is an option for people. You really can save money and shop smarter with Reel!
If you want to try out Reel and start saving, use my code: C-MACIE for $10 off your first Reel!
Are you planning on trying Reel out? Let me know in the comments!


If you like this post, be sure to pin it on Pinterest!