I'm sharing some of my absolute favorite beauty products for Spring this year! These are products I have recently tried and loved so much I decided to put them into my daily rotation of beauty products.
My Favorite Beauty Products For Spring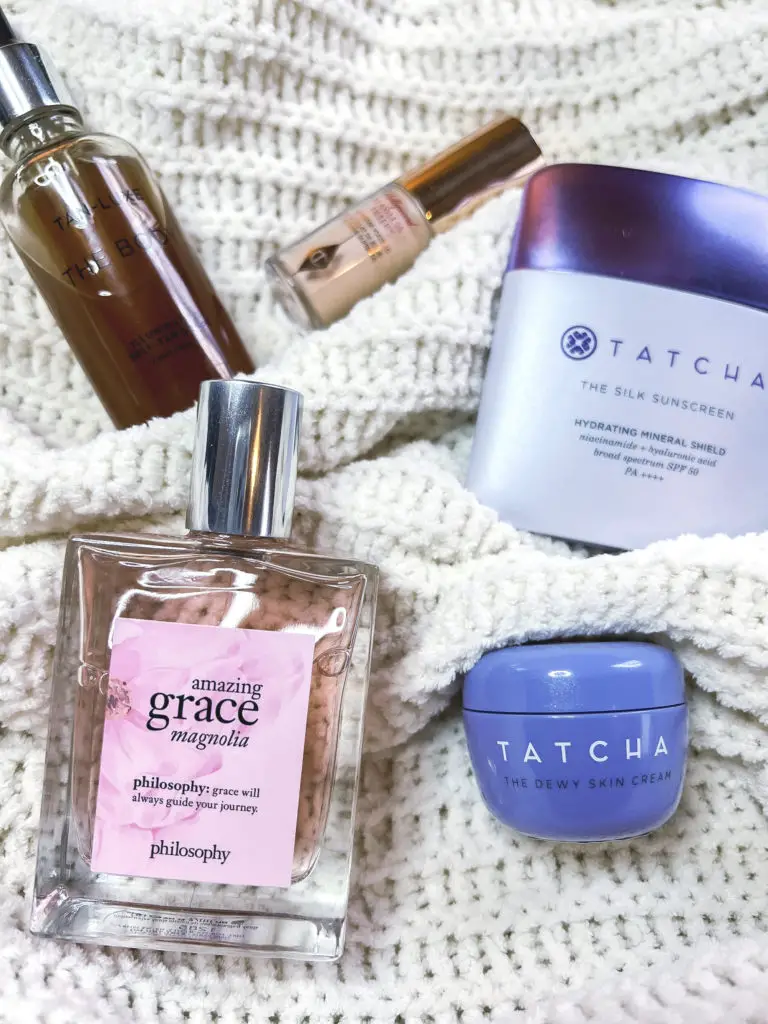 Ok, I have tried SO many self-tanners and never tried actual self-tanning drops. I don't know why, but I always tend to gravitate towards a mousse tanning product. I finally bit the bullet and decided to try these and I fell in LOVE. These drops you mix in with your own lotion and apply. I think the fact that you use your own lotion that you already love is the winner here for me. It doesn't give you that sticky self-tanning feel after you apply because it's a lotion and it sinks into your skin! The smell is also great! I haven't noticed that stinky "self-tanner" smell that you normally get with other products like this.
All in all, this has become my go-to self-tanning product and I will continue using this throughout spring and into summer. I currently use the Body self-tanning drops in Light Medium. The color is always gorgeous and I use 5-6 drops each time I apply.
If you're on social media at all, you've probably seen the Charlotte Tilbury Flawless Filter being advertised or talked about. I was very skeptical so I ended up buying a small travel size to see what all the hype was about. I must say, I was very impressed! This can be worn under foundation or even alone as a super illuminating foundation. I have been using this consistently and love what I see! Most days I use this and then put some concealer under the eyes and blend it together and it looks so natural and pretty. I definitely recommend trying this out if you like a natural glowy skin look! I know it's pricey, so try out the smaller travel size first to make sure you like it! It's way more affordable and it will last me at least a month or longer!
The HOLY GRAIL of sunscreen! This sunscreen is absolutely amazing! If you have tried Tatcha products before, I'm sure you understand. This sunscreen goes on so perfectly and blends right into the skin effortlessly. It gives a slight illumination and blur effect once on. I have been using this under my foundation and it looks flawless! I will also be taking this with me to the beach and using it alone. It gives the effect of wearing a very very light coverage foundation, just like a small tint to the skin. This is the best sunscreen I have tried and I know it's pricey but it's totally worth it in my opinion!
Another Tatcha product for the WIN! I got this in a small mini travel size as my birthday gift from Sephora. I fell in love with this cream! The texture, the scent, the way it feels on the skin. It's divine! It's such a great moisturizer and just sinks right into the skin. It makes my skin feel plump and hydrated as soon as it goes on. I love love love this stuff. Tatcha makes some wonderful skincare products and you should really check them out if you enjoy luxury skincare!
Last but not least, everyone needs a signature fragrance! This Philosophy fragrance just screams springtime to me. It has the notes of their fresh and clean scent Amazing Grace with also floral notes mixed in. I love magnolia and this fragrance really stuck out to me. Their packaging is also gorgeous. This is a perfect spring fragrance for anyone who enjoys a fresh clean floral scent!
What are some of your favorite products to use in the spring? Let me know in the comments below!
Thanks for reading,