Are you thinking about spending Valentine's Day at home this year? I don't blame you! So much has changed over the course of the last few years that we spend way more time inside than we do outside of our house visiting restaurants or other social places.
I think we have learned that we can have just as good a holiday or experience in our own house as we could going somewhere special to celebrate! Here are some easy ways to celebrate Valentine's Day at home this year.
Easy Ways To Celebrate Valentine's Day At Home
Plan an Indoor/Movie Night Date
A super-easy way to celebrate Valentine's Day at home would be to bring the date to your house! A great idea is to do something similar to this photo below, maybe incorporating a sleepover/movie night theme. Obviously, it doesn't have to be put together exactly as shown in the picture. You could easily throw something like this together pretty quickly and on a budget!
You could grab some pillows from around the house, grab some blankets, maybe even an air mattress or couch cushions? Build a little cozy space with what you have and then you can add in some extra special touches like a few candles (in a safe area where it won't be knocked over) and some candy, chocolates, popcorn, etc. You could even add in some beautiful string lights like in the photo to really make it special.
I would also recommend picking out a Valentine's Day themed movie or some sort of romantic comedy.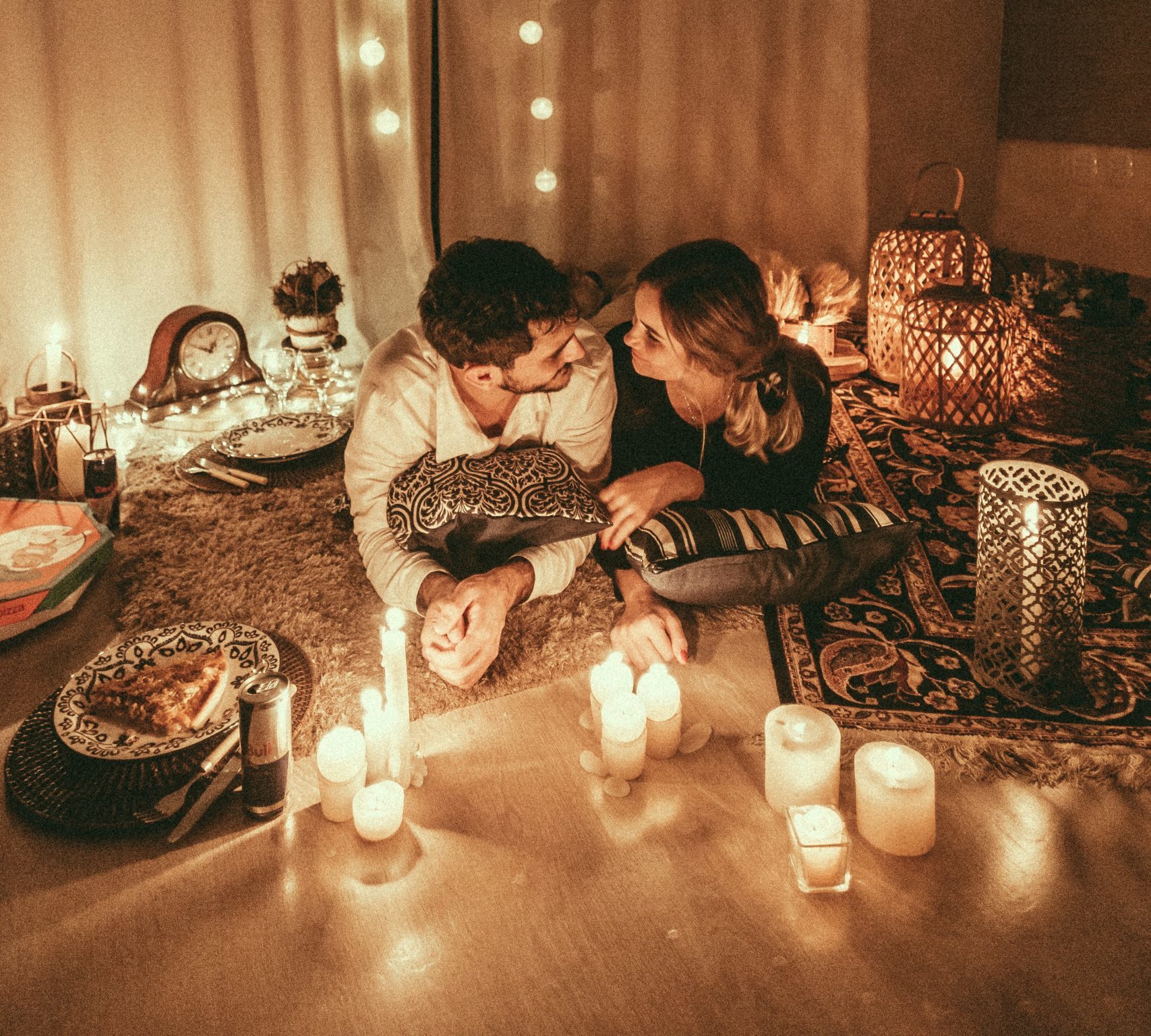 Cook a Meal Together
This is probably a no-brainer for most people, but instead of going to a nice restaurant why not cook a nice meal together? You can purchase the ingredients for a very nice dinner and it is more affordable than the steak house down the street.
If you don't really have the cooking skills, no worries! That's what makes it fun! You can cook together and try to learn as you go. If all else fails, I would have a backup plan for dinner (maybe order some takeout or doordash from a restaurant nearby!)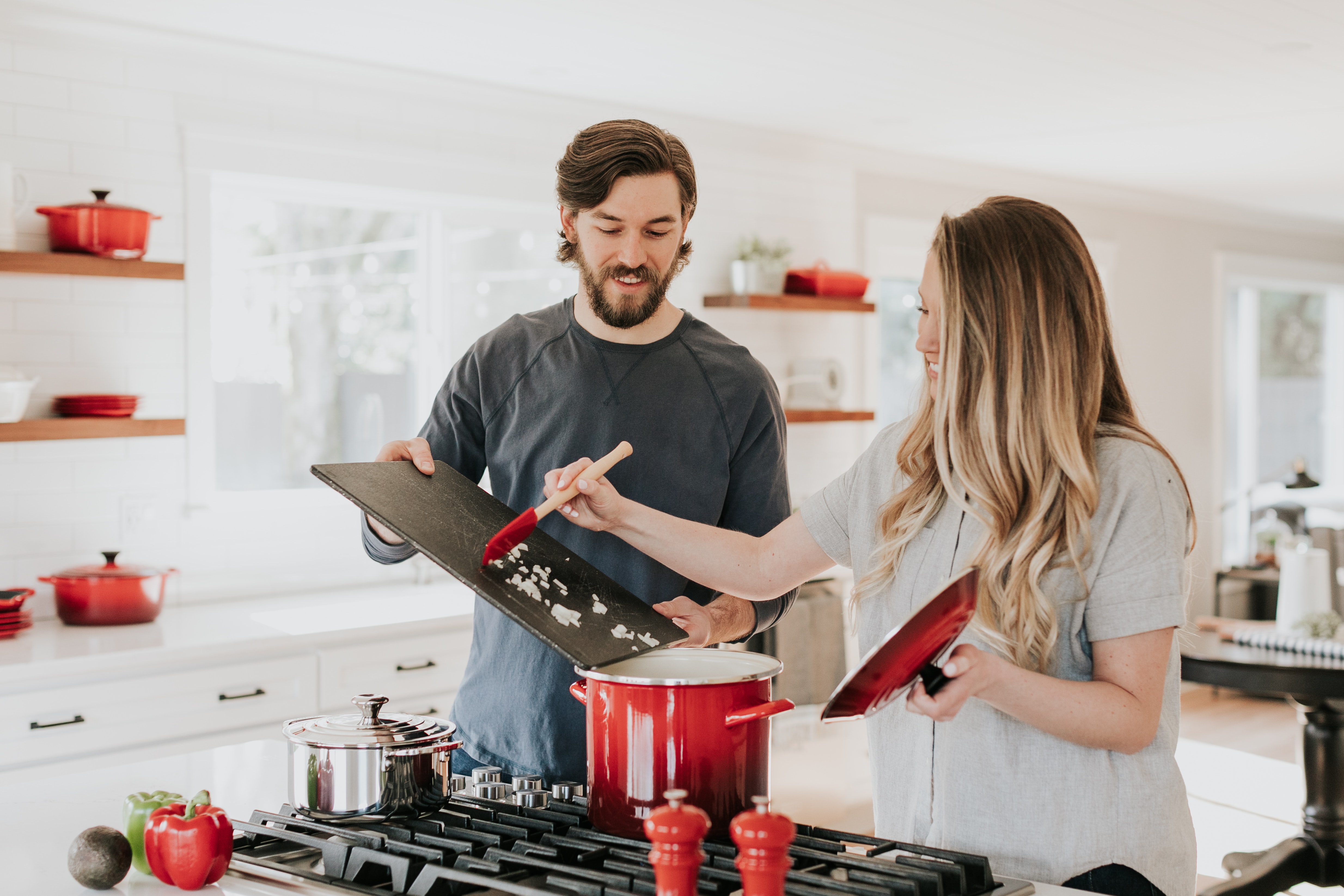 Exchange Valentine's Day Gifts
Even if you aren't going out on some fancy expensive date, you can still exchange Valentine's Day gifts! There are so many wonderful options if you are looking for ideas on affordable gifts, check out Walmart's and Target's Valentine's Day gift ideas!
Some typical Valentine's Day gifts are chocolates, candies, cookies, greeting cards, stuffed animals, and flowers. You can always add in personal elements to really create a gorgeous Valentine's Day gift!
Make Valentine's Day Candy/Cookies
This is a fun idea! Instead of cooking a meal together, how about making Valentine's Day candy or decorating cookies together? This would be a fun and easy date night idea! All you need is a few affordable ingredients to make your candy or cookies and then the decoration to throw on top.
You could even make these together and then watch enjoy them while watching a movie. Perfect Valentine's Day at home!
Camp out in your yard
Have you ever wanted to have a camp out in your yard? If you are a fan of traveling or camping, this would be a perfect Valentine's Day date at home! You could set up your tent outside with sleeping bags, pillows, blankets, etc., and fill the tent with fun things to do.
A great idea is you could play board games inside, watch a movie on a phone/iPad, or just spend time together in a fun new environment while still on your own property! You could even buy some Valentine's Day decorations and hang them up in the tent to make it more festive.
Make a Beautiful Flower Arrangement
What's Valentine's Day without flowers?! I love a good floral arrangement and Valentine's Day is the perfect day to go all out! If you are celebrating at your house, why not order a beautiful arrangement that can be delivered right to your door?
If you'd rather make it yourself, you can always head down to your local store and find some beautiful flowers to make an arrangement yourself. It's a great Valentine's Day gift and looks beautiful in your house for days to come afterward!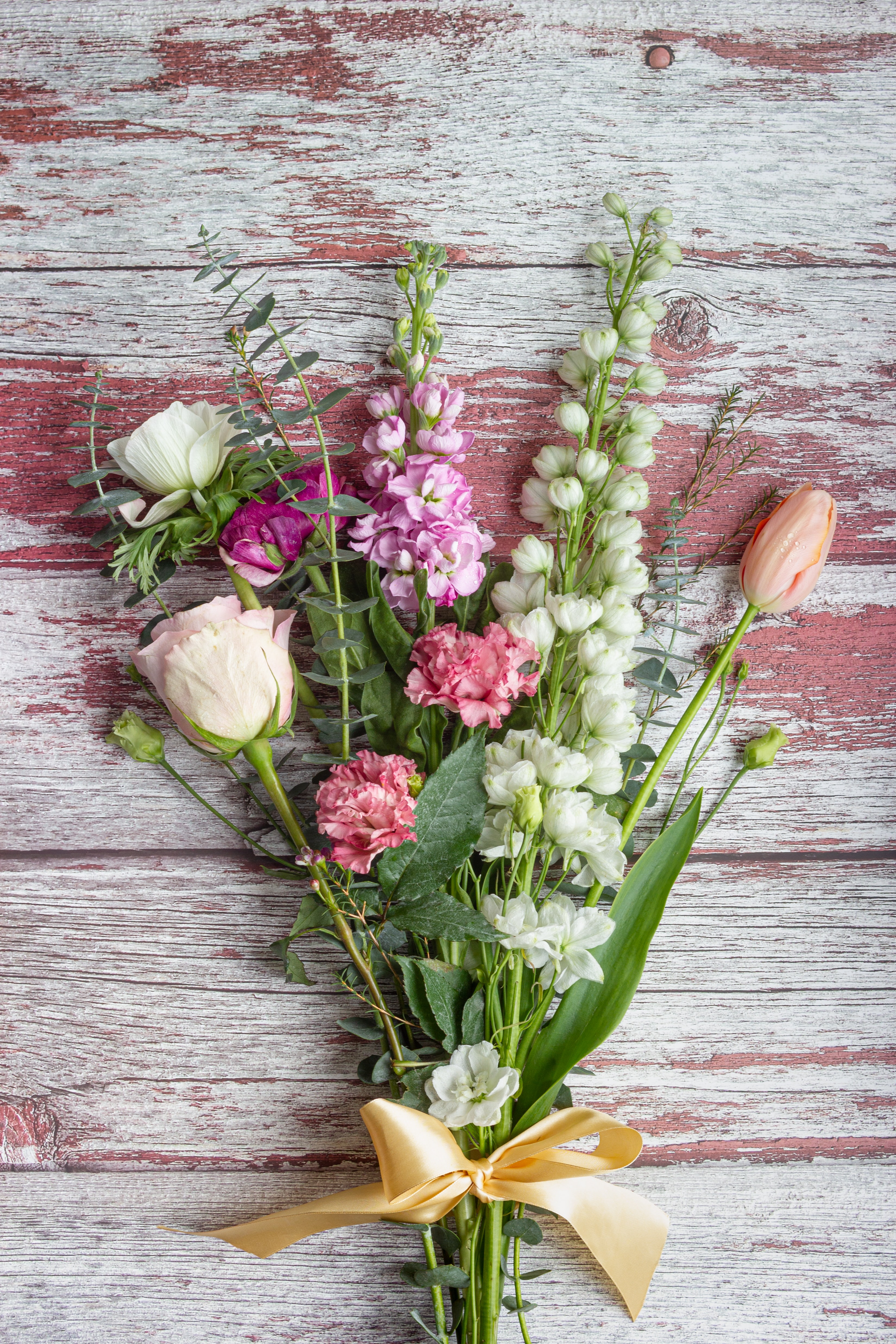 Play Couple's/Board Games
If you have some time before Valentine's Day, you could always search for a fun couple's card or board game. They sell a bunch of different ones that have different ways of playing. You could find one that looks interesting and have a couple's game night for Valentine's Day!
Here are a few ideas on Couple's games you can check out and see if any of them sound fun!
I hope these have given you some great ideas on how to celebrate Valentine's Day at home this year! You can also check out Cheap Valentine's Day Gifts if you are looking for more inspiration!


If you like this post, be sure to pin it on Pinterest!